How Crowdfunding Has Changed Commercial Real Estate Investing
Behind stocks, bonds and cash, commercial real estate has emerged as the fourth largest asset class in the U.S. over the last few decades. Among institutional investors, investments in commercial properties represent nearly 10% of their holdings.
When you look at the typical individual investor's portfolio, however, there's often a large hole where commercial real estate is concerned. In fact, for many investors, this particular asset class is a relative unknown. Previously, stiff barriers to entry meant that direct commercial real estate investments were only available to a select group of ultra high net worth investors with investable assets over $30 million who understand the historically high rates of return. Average 20-year returns in the commercial real estate slightly outperform the S&P 500 Index, running at around 9.5%.
Fortunately, real estate crowdfunding is making it possible for a broader base of accredited investors to gain access to this valuable segment of the real estate market.
Commercial Real Estate Defined
Commercial real estate is any property that's designed to produce income. That covers everything from office buildings and industrial warehouses to retail stores and shopping malls and multifamily apartment complexes. Commercial properties generate income in the form of rent paid by tenants and/or appreciation when the property is sold. Investors realize returns based on the property's income—less any operating, financing and maintenance costs.
Why Commercial Real Estate Is Investor Friendly
Commercial real estate sets itself apart from other investments in several areas. Many of these features that make it unique are also what make it appealing to investors. There are five key areas where commercial real estate tends to outperform other asset classes:
Volatility – The stock market can be unpredictable from month to month and year to year, while real estate has tended to be more stable. On a global scale, certain U.S. real estate markets have become a safe haven of sorts for international investors seeking to escape troubled foreign markets. Compared to stocks, commercial real estate may offer more protection in terms of price instability. Since returns are derived from rental income in addition to price appreciation, commercial real estate often proves to be a more stable investment during periods of market volatility.
Inflation – Inflation can be an investment killer but in the case of commercial real estate, research has shown that there's a higher degree of correlation compared to other asset classes, particularly when there's a longer holding period. What this means for investors is that as prices rise in the larger economy, including rental rates, commercial real estate has the potential to become more profitable.
Returns – In 2015, global economic growth began to slow down for most asset classes. Commercial real estate proved to be an exception however, with occupancy and rental rates holding steady. According to the NCREIF Property Index (National Council of Real Estate Investment Fiduciaries survey of 7,364 commercial properties), commercial real estate investments generated a total annual return of 12.71% in 2015 and 7.97% in 2016. For longer term context, the annualized average total return for the past five years was 10.92%.
Diversification – No matter what you're investing in, diversification is important because it helps spread out risk. Investing in real estate is a proven way to inject diversification into your holdings and choosing commercial properties allows you to add an entirely new dimension to your portfolio.
Tax benefits – Owning a piece of real estate directly comes with some tax advantages, such as the ability to deduct depreciation and loan interest. Those deductions can be used to offset the income generated by the property. For a commercial real estate investor, that can add up to a substantial tax break.
Real Estate Advantages Versus Other Investments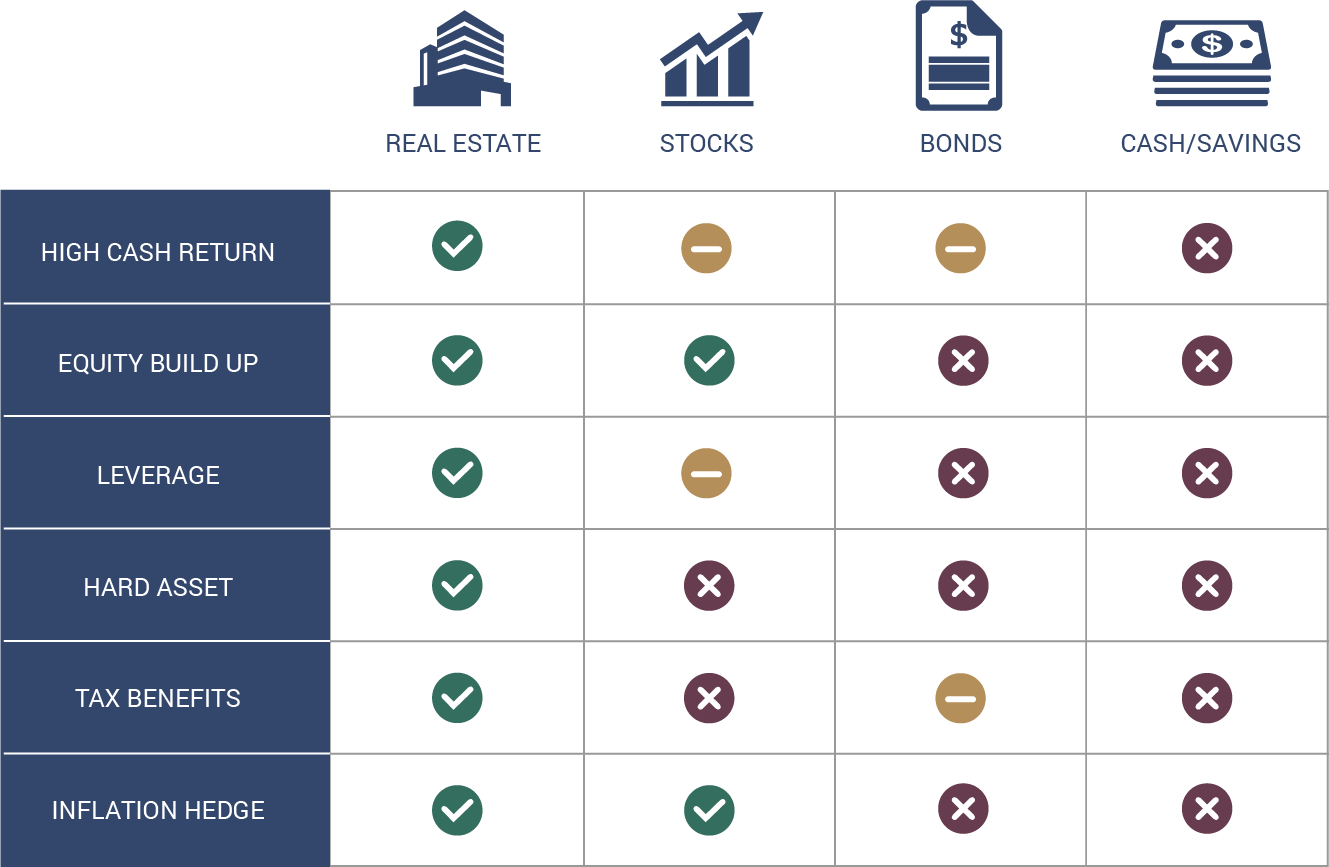 Crowdfunding Makes Online Investing Easy and Accessible
Historically, commercial real estate investments were the exclusive domain of private investors who had the right connections and could afford a five- or six-figure minimum buy-in. Unfortunately, individual investors have historically been excluded from this potentially profitable asset class.
The passage of the JOBS Act in 2012 lifted restrictions on the advertisement of securities to accredited investors. That, in turn, paved the way for real estate crowdfunding, a new method for individual investors to invest in real estate.
Crowdfunding platforms make it possible for investors to connect with private real estate deals online without running into the obstacles that have traditionally been associated with commercial real estate investing. Now investors can participate in deals with as little as $50,000.